Location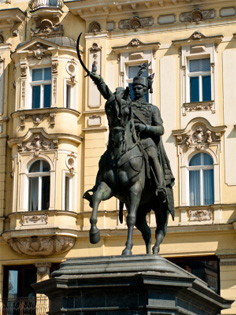 Welcome to Zagreb, the capital of the Republic of Croatia
Zagreb is an old Central European city. For centuries it has been a focal point of culture and science, and now of commerce and industry as well. It lies on the intersection of important routes between the Adriatic coast and Central Europe.
When the Croatian people achieved their independence in 1991, Zagreb became a capital - a political and administrative center for the Republic of Croatia. Zagreb is also the hub of the business, academic, cultural, artistic and sporting worlds in Croatia. Many famed scientists, artists and athletes come from the city, or work in it. Zagreb can offer its visitors the Baroque atmosphere of the Upper Town, picturesque open-air markets, diverse shopping facilities, an abundant selection of crafts and a choice vernacular cuisine.
Zagreb is a city of green parks and walks, with many places to visit in the beautiful surroundings. In spite of the rapid development of the economy and transportation, it has retained its charm, and a relaxed feeling that makes it a genuinely human city.
Key facts
Position
Northern Croatia, on the Sava River, 170 km from the Adriatic Sea situated 122 m above sea level (45° 10' N, 15° 30' E)
Time
Central-european time (GMT+1)
Climate and weather
Continental climate with average summer temperature: 20° C and average winter temperature: 1° C
TC Ponikve
Location
TC Ponikve
Kozjačka ulica
10 090 Zagreb
www.tkponikve.hr
In part of Zagreb called Gajnice, a tennis center Ponikve is a place where we can play tennis on red clay both inside and outside.